Oral Appliances in Plano, TX
There are over 100 different types of oral appliances on the market. At Sleep Rehab Snoring, Sleep Apnea and TMJ, we only utilize those that are top-of-the-line, and FDA approved. Each one is custom-made so we can ensure every patient receives personalized, effective treatment. Over the years, Dr. Fedosky has tested multiple styles.
Have any questions about oral appliances from our Plano, TX office? Give us a call and one of our sleep professionals will help answer your questions.
---
Thermoformed Day

A variation of a Day Appliance but made with a thermoformed material and no metal
Is a full coverage appliance
Material options: Thermoform
---
Night with Ramp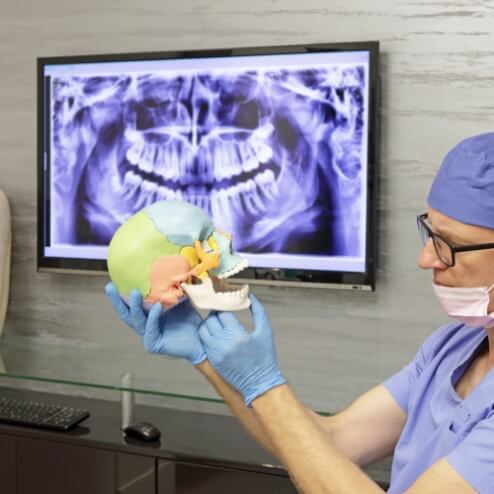 Designed with a repositioning ramp that guides the jaw into the established position. Similar to a Farrar except with full occlusal contact.
Full coverage appliance with full occlusal contact and a ramp.
Material options: Acrylic, Thermoform, True Comfort, Milled PMMA
---
Respire Blue Appliance
The Respire Blue Series has a mesh support that is welded and placed inside the acrylic. This improvement offers one of the strongest dorsal fin designs on the market, The Respire Blue is easy to adjust, where each turn off of the screw is equal to 2 /10 mm. This oral appliance has more room in the anterior area and allows the patient to open and close as they please. It is also open in the front to add comfort by increasing the tongue space allowing the patient to inhale and exhale more air per breath. This oral appliance can also be made with a soft layer on the tooth surface to add additional comfort and comes with a 1 year warranty.
---
Respire Pink Micro Appliance
When it comes to oral appliances that address sleep apnea, there are few as versatile and useful as the Respire Pink Micro, which is likely why it is Medicare approved. This appliance has telescopic hardware for increased lateral movement and has the option to add elastic hooks and an anterior discluding ramp. It has a 6 mm maximum advancement with an extra anterior fixing unit and is available in hard and hard/soft-fitting surfaces. For this appliance, you can opt for a one-year manufacturer's warranty and have your Respire Pink Micro completed with two-day rush service.
---
Silent Nite®
To prevent the ill effects of sleep apnea and snoring, the Silent Nite oral appliance successfully repositions the lower jaw to keep facial tissues from obstructing air flow. The Silent Nite consists of flexible, thin, and comfortable material, which is soft on the interior and durable on the outer layer. The appliance's connectors are adjustable, so Dr. Fedosky can customize the angle and fit for the most beneficial outcomes. Along with a night appliance, Silent Nite comes with an AM Aligner that prevents occlusion issues and reestablishes healthy bite alignment.