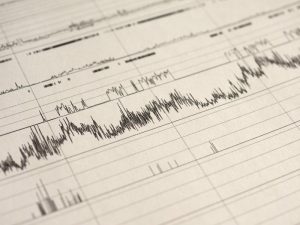 If a sleep dentist or doctor thinks you might have sleep apnea or a similar disorder, they might recommend a sleep test. This can mean staying at a lab overnight, or it might mean taking a special device home to wear while you sleep; in either case, the test will record your brain waves, measure the oxygen levels in your blood, and keep track of your heart rate and breathing – all of the necessary information to make a proper diagnosis. Are you not sure whether a sleep test is worth the trouble? Here are 3 reasons why it could have a very real impact on your sleep health.
1. The Consequences of an Untreated Sleep Disorder Can Be Severe
An undiagnosed disorder like sleep apnea can't be treated properly. At first, you might not think losing a few hours of sleep every night is a problem, but over the long term, you may start to notice side effects that can severely affect the quality of your life – or even put it in danger. Long-term consequences can include excessive drowsiness, increased stress, obesity, high blood pressure, heart problems, and diabetes. Your mental state could be affected as well, and you may develop depression, anxiety, or cognitive impairment. Having your sleep apnea treated sooner rather than later can ultimately let you avoid many of these issues.
2. Your Sleep Disorder Can Also Affect Your Partner's Health
Sleep disorders don't just prevent you from getting a good night's sleep; they can also keep your partner up at night. One of the most common symptoms of sleep apnea is extremely loud snoring (which normally occurs as a result of the airway being blocked, preventing normal airflow). This sound can easily wake a nearby sleeper up – or even stop them from falling asleep in the first place.
Other sleep related conditions – such as grinding the teeth at night, sleep walking, and restless leg syndrome – can disturb your partner, causing them to suffer from drowsiness and fatigue during the day. The sooner you confirm the presence of a disorder, the sooner you can both get some well-deserved shuteye.
3. Having Your Disorder Treated Will Make Up for the Cost of the Test
Many patients are reluctant to have a sleep test done due to the cost. However, preventing the health issues that the disorder is known to cause can go a long way towards balancing out the price, as you'll lower the risk of needing additional medical treatment in the future. Furthermore, many insurance companies may offer coverage for the test, which can help make it more affordable.
As you can see, the pros of having a sleep test done will almost certainly outweigh the cons, so there's no need to be afraid of seeking treatment. Call your sleep dentist today to start the process of relieving your sleep apnea symptoms and finally getting some quality rest!
About the Author
Dr. Keane Fedosky has been using oral appliance therapy to treat sleep apnea and snoring for more than 20 years. At his clinic in Plano, Sleep Rehab, he offers home sleep testing for patients who would rather have the study done in the comfort of their own beds rather than at a lab. To schedule an appointment, visit his website or call (972) 753-3737.