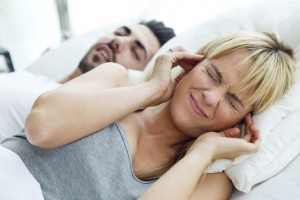 Welcome to the new blog for Sleep Rehab! This is the place we hope residents of Garland, Dallas, and Plano will visit frequently for the latest news about treating sleep apnea and snoring, as well as updates on what's happening at our office. Dr. Keane Fedosky and the team at Sleep Rehab are here to help you get relief from snoring and sleep apnea with accurate diagnosis and treatment.
Sleep Apnea and Snoring
If you are a snorer, or the person taking up half of your bed is one, then we don't need to tell you how disruptive that sound can be to a restful night of sleep. After all, it's not jokingly referred to as sawing wood for no reason. However, snoring can be anything but a joke, especially if it happens to be a symptom of a more serious condition.
Sleep apnea is the actual stoppage of breathing while you sleep. When you rest, every part of your body relaxes, including your tongue and other soft tissue in your throat. In some people, this can partially block your airway. Then, when you breathe, this tissue vibrates and causes that annoying snoring sound.
In someone with this type of sleep apnea—which is specifically called obstructive sleep apnea—there can be serious short-term and long-term consequences. The most noticeable short-term consequence is daytime sleepiness that can interfere with your ability to work or study. And because of exhaustion, sleep apnea is believed to be the reason for a large number of auto accidents.
Other day to day problems might include headaches, sore throat and the need to urinate frequently at night. Sleep apnea can also put you at risk for serious health conditions, too, including:
High blood pressure
Stroke
Heart attack
Obesity
ADD
Sleep apnea is not a condition found only among adults. Children are at risk, too, and this may account for the increases in diagnoses of ADD and impeded child development.
Sleep Apnea Treatment
At Sleep Rehab, Dr. Fedosky and his team treat sleep apnea with a comfortable oral appliance meant to be worn while you sleep. The appliance moves your tongue and lower jaw forward so you can breathe more easily and sleep restfully through the night.
Call Our Office Today
If you or your bed partner snores, please don't assume it's only snoring. Schedule a consultation with Dr. Fedosky at Sleep Rehab. We serve patients in Garland, Dallas, and Plano and the surrounding communities.