Many people fall victim to headaches for a multitude of reasons. In fact, according to the WHO, "Half to three-quarters of adults aged 18–65 years in the world have had a headache in the last year and, among those individuals, 30% or more have reported migraine."
The only way to get rid of these awful, nuisances are to get to the bottom of what is causing them. One of the causes of your headaches could be TMJ. Temporomandibular joint (TMJ) syndrome is a disorder of the jaw muscles and nerves caused by injury or inflammation to the temporomandibular joint.
How do you know if TMJ is causing your headaches or migraines? Make note of these signs next time your head is pounding.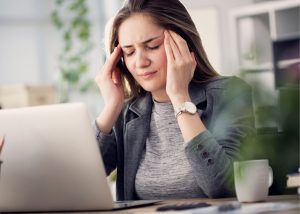 Over-exertion of your jaw
Have you noticed that your headaches are more prominent after chewing tough food or gum, talking for lengthy periods of time, or any other intense jaw activities? Your headache may be related to TMJ. According to a study in the Journal of Pain, "Painful temporomandibular disorders were associated with a higher primary headache frequency." Using your jaw just a little too much may trigger the headache.
Teeth Clenching
Do you clench your teeth before or after a headache? Let's not rule out bruxism. Bruxism is unconsciously clenching or grinding your teeth while you're awake or asleep. People who clench or grind their teeth (brux) during sleep are more likely to have other sleep disorders, such as snoring and pauses in breathing (sleep apnea).
Try the "Pencil Test"
Although it's not infallible, a way to test whether or not your TMJ is the cause of your headaches is to hold a pencil in your teeth while you're experiencing the headache. If you feel relief or a reduction in pain, it could hint that TMJ is the root cause of your head pain.
If one or more of these signs are hitting home or if you're finally looking for a solution to your headaches, contact Sleep Rehab for a TMJ consultation. We're here for you.