Which comes first, weight gain from lack of sleep or Sleep Apnea caused by weight gain? Well, the truth is, it can be both. In fact, it can become a vicious cycle if not treated quickly. You may not be able to sleep well at night due to Sleep Apnea, and the exhaustion you experience from a restless night disrupts a healthy routine. It's not new knowledge that carrying around extra weight comes with additional medical issues, and Obstructive Sleep Apnea (OSA) can be one of them.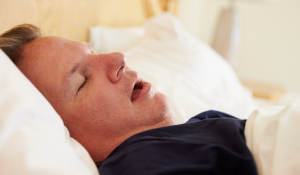 Why Weight Gain Causes Sleep Apnea
Over two-thirds of the U.S. population of the United States is now considered overweight or obese, and it's estimated that three to seven percent of the U.S. population suffers from Sleep Apnea. So, just because you are overweight does not mean you will develop Sleep Apnea, but it does significantly increase your chances if you do have some additional pounds on you.
The reason for this is, that the excess fat that accumulates around the neck area can obstruct breathing, ultimately leading to a diagnosis of Sleep Apnea.
Why Sleep Apnea Causes Weight Gain
Not getting an adequate amount of sleep nightly not only makes you less attentive and reactive, but it can cause weight gain. Lack of sleep changes your hormone levels related to your appetite, and in the increase in hunger makes you eat more than you normally would or even need. Not waking up rested can also cause you to put off healthy habits like a morning jog. The last thing anyone wants to do when they are exhausted is go for a long walk.
So how do you stop this cycle from becoming worse and worse? Make an appointment for a consultation with our experts at Sleep Rehab. We have the right tools to help you sleep better and feel better.