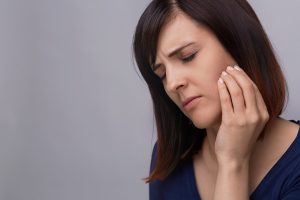 Many people think of dentists as strictly experts in teeth and gums. However, they have specialized skills and knowledge to treat all sorts of problems involving the mouth, including jaw problems. If you are suffering from persistent jaw pain, you could have temporomandibular joint disorder, also known as TMJ. Your first instinct might be to contact a doctor. However, your dentist may actually be the professional best equipped to provide relief. Keep reading to learn why you should turn to a dentist for TMJ pain.
What Is TMJ Disorder?
The temporomandibular joints are the two points on either side of your head where your jaw meets your upper skull. Your TMJs allow you to open and close your mouth to speak, chew, and laugh. Because they control so many different movements, temporomandibular joints are some of the most complex in your body.
Temporomandibular joint disorder is an umbrella term for various issues that cause pain in the joints, muscles, and facial nerves that control jaw movement. Common TMJ disorder symptoms include:
Muscle pain in the cheeks and neck
Clicking or popping sounds when opening or closing your mouth
Locking of your jaw
Swelling on either side of the face
Persistent headaches
Hearing difficulty or ringing ears
Dizziness and vision problems
Tooth sensitivity
Light sensitivity
What Causes TMJ Disorder?
TMJ issues are surprisingly common. In fact, according to the American Association of Family Physicians, up to 15% of adults are affected by TMJ disorder. However, determining the exact cause of TMJ issues can be challenging. Your jaw pain may be due to a combination of factors, such as:
Grinding teeth at night, which places additional force on your jaw joints
Physical trauma that damaged your jaw or facial muscles
Dental infections that are neglected and allowed to spread
Arthritis around the temporomandibular joints
How a Dentist Can Help
Dentists are educated in all aspects of oral health, not just how to fight cavities and gum disease. In fact, many dentists complete advanced training in different specialties, including how to care for craniofacial areas.
When you visit a dentist for TMJ pain, they will first carefully examine your mouth and jaw and discuss your symptoms. Depending on your unique situation, they may recommend TMJ therapy in the form of an oral appliance. Custom-designed to fit comfortably in your mouth, an oral appliance is a small plastic device worn at night that repositions the jaw to reduce joint tension. They can also protect your teeth from grinding and clenching, which may contribute to TMJ pain in the first place.
Don't let jaw pain be a drag on your daily quality of life! Talk to your dentist to find out if you could benefit from oral appliance therapy.
About the Author
Dr. Keane Fedosky has 20 years of experience helping patients in Rowlett overcome sleep apnea. An active member of the American Academy of Dental Sleep Medicine, he provides custom oral appliances at his conveniently located private practice. To learn more about TMJ therapy, visit the Sleep Rehab Snoring, Sleep Apnea and TMJ website or call 972-753-3737.