Many people experience the occasional acid reflux, or more commonly referred to as, heartburn. Acid reflux can happen for a variety of reasons including smoking, drinking alcohol, ingesting a large meal or even being overweight. Those who have experienced this uncomfortable and unsettling feeling know that in time it will pass and learn how to avoid it from happening in the first place. However, if you have ongoing symptoms of acid reflux, as in more than twice a week, you may be diagnosed with Gastroesophageal Reflux Disease (GERD).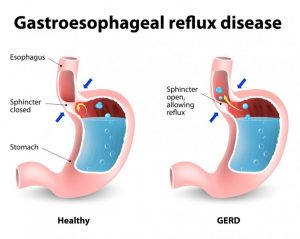 Photo credit: The Best of Health UK
GERD, a chronic form of acid reflux, can greatly impact your quality of sleep. Unlike occasional acid reflux, it can contribute to Sleep Apnea. There are a few reasons for this. One, because of your horizontal position, the reflux causes the contents of your stomach to rise as high as the throat. The acid from your stomach will cause an intense burning sensation and an unsavory awakening. Secondly, according to an article published on NCBI, "The prevalence of GERD has been shown about 58-62% of patients with OSA, however, these results may all be confounded by obesity. Apnea may increase trans-diaphragmatic pressure and decrease intra-thoracic pressure, favoring GERD." To put it more simply, Sleep Apnea, which causes respiratory pressure to change, can make it easier for reflux to occur.
To help alleviate acid reflux, you can start out by propping up your pillow to sleep more at an angle and work with gravity to make it more difficult for the reflux to reach your throat. Another tactic is using over-the-counter neutralizing medications like Tums and Pepto-Bismol. However, neither of those is going to get rid of your Sleep Apnea. Sign up for an appointment today to get a handle on the problem before it worsens!