As busy and sleep-deprived as our lives were pre-COVID-19, there have been mass accounts of sleep issues during this pandemic. Have you been experiencing trouble sleeping during the last two months? Well, rest assured (pun intended) that you're not alone! Nothing could prepare us for the anxiety, uncertainty, and worry that comes with a global crisis.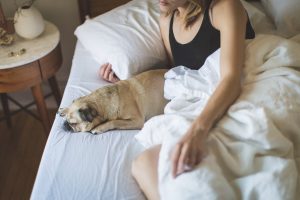 However, getting adequate shut-eye with a rampant virus is going on is critical. Sleep boosts your immune system, strengthens your body's defense system and can even aid in making vaccines (when it comes available) more effective.
In addition to positive effects for the body, a solid night's rest can improve mood and brain function. We're so used to making plans and constantly moving, so being asked to slow down and deal with an uncertain future can make you feel anxious and potentially depressed. In other words, we can use all of the mood enhancers we can get!
What can you do to get back to a night of healthy sleep?
Set your schedule.
Set a routine wake-up time even if you're working from home or currently unemployed. It's crucial to keep your body on a steady schedule. This also means making time to wind down before bed and going to bed around the same time every night.
Reserve your bed for bedtime.
Working from home means you can probably work anywhere in your house, but leave the work out of the bedroom. Your brain needs to be able to separate work from rest.
Stay active.
Make sure to get outside and go for a walk, jog or bike ride to release your mind of any anxiety and stress related to the pandemic. This will help you sleep better at night!
Like everything, this too shall pass. But in the meantime, take care of your mind and body. If you need additional help sleeping, contact Sleep Rehab for a consultation. We're here for you!