There is so much information floating around the Internet, it's hard to know what is true and what is false. When beginning your searches about symptoms regarding sleep apnea, you may have run across some scary, but not possibly quite true, information. At Sleep Rehab, our goal is to make you well informed and confident about treating your symptoms. So, let's bust some myths about Sleep Apnea!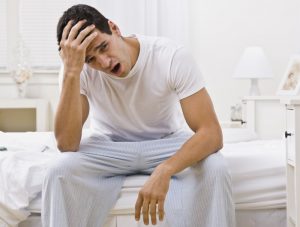 Myth 1: Obesity is the main cause of Sleep Apnea.
Yes, there is a link between Obstructive Sleep Apnea and weight gain, as we wrote about in this blog post. However, there are several factors that can affect your breathing at night and obesity is just one of them. As concluded by the Lost Angeles Sleep Study Institute, "Weight is a factor in developing sleep apnea, as the fatty tissue in the back of the throat can collapse and block the airway as the muscles relax during sleep. However, even a well-conditioned athlete who has a large, muscular neck may have a similar problem. Even a thin person can have sleep apnea if he or she has a narrowed airway or structural abnormalities of the jaw, tonsils or adenoids, septum, tongue and soft palate."
Myth 2: Snoring means you have Sleep Apnea.
Snoring is a common symptom of Sleep Apnea patients, but just because you snore does not mean that you have Sleep Apnea. Snoring is only a clue that Sleep Apnea may be a possibility. According to the Mayo Clinic, snoring can occur with alcohol consumption, having a narrow nasal airway, a family history of snoring, or being a man (men are more likely to snore than women).
Myth 3: A CPAP machine is the most effective treatment of Sleep Apnea.
A CPAP machine has been a popular treatment for Sleep Apnea patients for decades. It delivers air pressure to keep a person's airway open. However, there have been issues surrounding the use of a CPAP machine including claustrophobia, dry mouth, skin irritation, and nasal problems. Thankfully, the medical community is always advancing and there are as effective, or even more effective, Sleep Apnea treatments and Sleep Rehab is always on the cutting edge. We offer easy-to-wear oral appliances that are a lot of like a mouthguard and much less intrusive than a CPAP machine.
We hope busting these myths about Sleep Apnea puts you on a more clear path to treating your symptoms of sleeplessness and snoring. When you're ready, make an appointment to see a specialist at Sleep Rehab to get a better night's sleep.