Did you know that one-third to 50% of adults who patients with a CPAP machine stop using it? There are also reports of patients that say they feel just as tired as they were before the CPAP therapy. What are some main complaints and issues with the CPAP and is there a way to avoid the CPAP all together?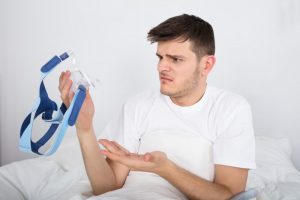 CPAP Complaints
Feeling claustrophobic
Not feeling comfortable with the mask on
Difficult time adjusting to air pressure on the throat
Expensive
Loud
Difficult to carry around
Causes nasal problems
Solutions to a problem are only as effective as the amount of use they are receiving, so if half of the patients aren't even using it, it's not working.
Luckily, Sleep Apnea has alternatives to CPAP Machines that are more comfortable, less expensive and users report a longer use.
An Effective Alternative to CPAP:
Oral appliance

Similar to a mouthguard
Worn nightly
Holds the lower jaw forward instead of pressurized air inside of your lungs
Highly customized by the experts at Sleep Rehab to ensure comfortability
If you've been experiencing difficulty sleeping, been waking up more exhausted than usual and experiencing increased snoring, it may be time to come in for a consultation at Sleep Rehab. We have a team of highly-trained professionals that will help you get to sleep comfortably by using non-invasive or machine-oriented techniques, like an oral appliance. Contact us today!