When you turn in for the day, you probably don't think much about what position you end up falling asleep. Maybe you move the pillow around to get comfortable, but you may not realize how you are sleeping is a subtle aid in your overall restfulness for the night. If you find yourself waking up feeling more tired than when you went to bed, it may be time to find a new sleeping position.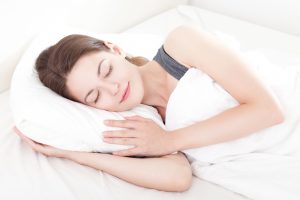 Snoring? Try side-sleeping
If you snore, there is a chance you may be suffering from sleep apnea, which is the condition in which your airway gets blocked at night, ultimately restricting your breathing. In order to create better airflow, the best sleeping position to reduce snoring is side-sleeping. Curling up reducing you breathing too deeply, too. If this isn't natural for you, don't worry, you're not alone. The good news is that you can teach yourself to become a side-sleeper.
How do you change your sleeping position?
First, make sure you have a good mattress. If you can fall asleep without interruption of feeling uncomfortable, there is less of a chance to retreating to your old habits. Next, make sure you have pillows that can essentially contour your new sleeping position. For instance, hugging a body pillow can reinforce sleeping on your side and prevent you from turning over on your stomach. But most importantly, as with changing any habit, practice makes perfect. Constantly remind yourself to get back on your side if you wake up in the middle of the night in a different position. Have a spouse help keep you in the right direction, too!
Changing your sleeping position is just one way to try and reduce your snoring due to sleep apnea. If you have tried everything and still waking up listless and exhausted, contact Sleep Rehab today for a consultation. We're here to help!